Send to a friend
The details you provide on this page will not be used to send unsolicited email, and will not be sold to a 3rd party. See privacy policy.
The shortage of credible and diverse voices in science undermines the capacity of journalists to respond to development challenges.
When reviewing the agenda of the first Africa Forum on Science, Technology and Innovation, which took place in Nairobi, Kenya, this week, I was reminded of my initiation at SciDev.Net.
The team has a tradition of taking new staff for lunch and asking them personal, offbeat questions. I was at the centre of one such initiation recently, when I was asked to share a quotation that often inspires me.
At the time I was overwhelmed with choice. But in the weeks since I joined the team, I have returned to the question often, as this is a time when the science and development community could do with some inspiration.
Take the UN Conference on Sustainable Development (Rio+20), which should be a renewed push towards sustainable development. Many are anxious that it will fail — and that with the planet at a critical state, the time for failure may already have passed.
The science media sector also needs inspiration, beset as it has been with its own crises. Few professions have been as acutely affected by the Internet as journalism. Established publishing houses have had to restructure, editorially and operationally, to stay afloat. And science, like coverage of international affairs, has often been a casualty.
Meanwhile, the public and researchers complain of inadequate training for journalists. And there are few examples of innovative technology being used for dialogue among scientists, communications professionals and lay audiences — certainly fewer compared with the arts and 'culture' industries.
Still, the point of inspiration is to energise us with visions of what is possible, and there are some promising trends for the media sector. Notably, there are signs of increased demand for science journalism.
Signs of a revival
A growing number of researchers are aware of the importance of engaging policymakers in their work — for example, the UK government has recently increased the value attached to real-world impact when determining levels of funding for research institutions.
It is now commonplace to find science conferences with their own hash tags on Twitter. Social media has made it easier for journalists and the public to engage scientists who might be up for the challenge.
And from the Arab Spring there is hope for science journalists — the Egyptian government has made scientific research a priority and it is widely held that the country's new constitution will include a section on the role of science and technology in nation-building.
There is also an increased appetite among the public, at least in developing countries, for more science journalism. A recent survey in Senegal revealed people's disquiet about the low level of science news they receive. A larger audience survey by the BBC World Service indicates this sentiment is not unique to Africa.
Journalists need good scientists
Could the market, in time, meet the needs of the audience with skilled science journalists? Such a belief would miss a more complex picture.
This is where the Africa Forum comes in. The buzzwords and agenda items familiar to those who follow the run-up to Rio+20 are less obvious here.
Instead, the agenda was focused on labour markets, youth employment and under-investment in the technology sector. The conference mapped out the governance and market failures that strike at the heart of science journalism in developing countries.
The overwhelming concern of the Africa Forum appears to be the shortage of high-quality scientists in the continent. This will compromise the capacity of science journalists to respond to the challenges of our time.
How do we know that quality science is in short supply? In 2001, only 2.3 per cent of scientific papers published worldwide were authored by scientists living in Africa, according to UNESCO (see Figure 1), compared with more than 50 per cent from those living in Western Europe and North America.
A decade later, getting scientists from developing countries to the table is still an issue — you only need to look at the delegate list of a conference such as Planet Under Pressure.
The low numbers drive their own cycle of underperformance and underfunding, because scientists need like-minded communities to learn and be challenged.
Coupled with this low representation are the political realities often facing scientists living in developing countries. One freelance journalist working in Ghana recently told me that self-censorship among scientists is perhaps the biggest threat to his livelihood.
This is not unique to West Africa. The truth is that rather than fiddle the results of their research, as climate sceptics claim, scientists are far more inclined to keep — or be kept — quiet.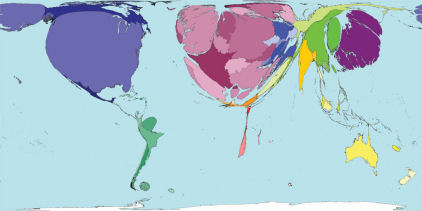 Figure 1. Map of science research. Territory size shows the proportion of all scientific papers published in 2001 written by authors living there
Copyright: SASI Group (University of Sheffield) and Mark Newman (University of Michigan)
The power of imagination
Having more credible and diverse voices in science delivers much more than sustainable jobs for journalists in developing countries — it is essential for the global public good and local welfare.
So what can be done about encouraging a plurality of scientific voices? Perhaps journalists and the media could seek to provide inspiration.
We need to show students and gatekeepers of science what is possible by demonstrating the value of creativity and rigour.
We also need to commit to providing platforms for talented voices wherever they emerge. This requires a nerveless combination of vigilance for these voices and uncompromising expectations — because good will is no excuse for bad science.
This brings me back to my own preferred quote for inspiration. It is by the Irish playwright George Bernard Shaw and works at the level of the sector, the institution and the individual: "Imagination is the beginning of creation. You imagine what you desire, you will what you imagine and at last you create what you will."
Nick Ishmael Perkins
Director, SciDev.Net