Accessibility

In March 2008 we relaunched the SciDev.Net website to make it more accessible to our global audience. The site is now easier to use with improved navigation within a more logical website architecture, page load times are now faster and content is available in four languages (English, Arabic, French and Spanish).

Web browsers
Our website is fully supported by the most popular Internet browsers (Microsoft Internet Explorer, Mozilla Firefox, Google Chrome, Safari, Opera). For the optimum viewing experience the latest versions of these browsers should be used to view our website.
Please note our website was designed to be fully supportable in Internet Explorer 6 (and previous versions) as this remains the most popular browser in use in the developing world.

Changing font size
Web Browsers (Internet Explorer, Mozilla Firefox and Google Chrome) enable you to change the font size of the text displayed, to increase the font size in most browsers you can press the CTRL and + keys together to increase the font size and the CTRL and - keys together to decrease font size. Pressing the CTRL and 0 keys together will enable your browser to be viewed at the original size. Alternatively, this function is located in the view menu on most browser's toolbar, see below: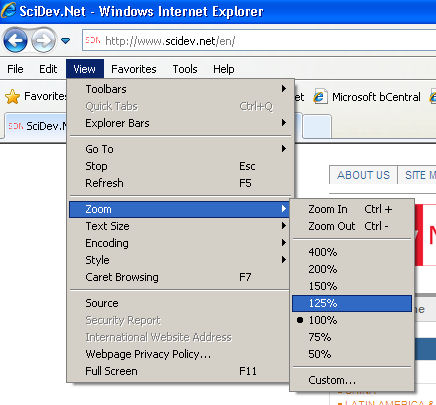 As a large proportion of our audience are based in the developing world many of our users view the internet at a small screen resolution, typically 800 x 600 pixels or less. In light of this, the standard width of our web pages are set to 800 pixels to ensure those users visiting SciDev.Net have a good website experience.

Layout and navigation
The core navigation menu on the left hand side is fixed on every page to enable easy access to the main homepage, and topic- and region-specific homepages. Navigating through hyperlinks on pages can also be achieved through pressing tab. Links to the contents pages and the top of the page are also present on article pages to aid navigation.

Low bandwidth tools
If you are experiencing issues in accessing our website fully due to low-internet bandwidth in your area you may wish to access our website using a low-bandwidth simulator provided by Aptivate, an organisation specialising in international development IT. This free tool will simplify the viewing experience by reducing website page sizes (such as hiding images). To access SciDev.Net using the loband simulator please click here.


We welcome any feedback in the accessibility of our website to ensure user requirements are met. We hope our website is as accessible for as many people as possible but recognise there may be things that can be improved upon. Please email your comments to [email protected].